Rotary Screens for Label Printing
Discover our unique Rotary Screens for Label Printing
Organisations and printers today face a multitude of challenges as they try to remain competitive and - at the same time - meet brand owners' requirements for quality and flexibility of service.
SPGPrints' screens give you an exceptionally reliable, long-lasting and highly accurate means of printing on a wide range of web widths.
Extend the effects in label printing with your RSI unit
Rotary screen printing is the printing solution for adding special effects to your labels like opaque white, ultra-fine raised text and lines, tactile, braille, glitter, 3D effects, tactile spot varnish, hot foil replacements and scratch-off coatings.
Because it can apply thick layers of ink or varnish in a single pass, rotary screen enables you to print unique effects which cannot be obtained by processes like flexo, offset, letterpress or gravure.


Rotary screen printing is used for labels in food, beverage, personal care, pharmaceuticals, healthcare and printed electronics.


Easily integrate rotary screen technology with your existing press thanks to our Rotary Screen Integration (RSI®) print units.
Rotary Screen Integration (RSI) multiple available widths
The SPGPrints' print module is the perfect complement to your combination (UV) press and is available in 10", 13", 16", 20", 24", 26", 600mm, 720mm, 820mm and 900mm width.
By printing higher deposits and larger particles, SPGPrints' versatile Rotary Screen
Integration (RSI) technology enables you to deliver special effects and offer extra functionality that cannot be achieved by any other printing process.
Rapid, reliable and economical production
Rapid, reliable and economical production of the 'no-label look', metallic colours, strong opaques, tactile warning symbols, special varnishes, scratch-off inks and other effects are all possible with SPGPrints' market-leading RSI rotary screen technology.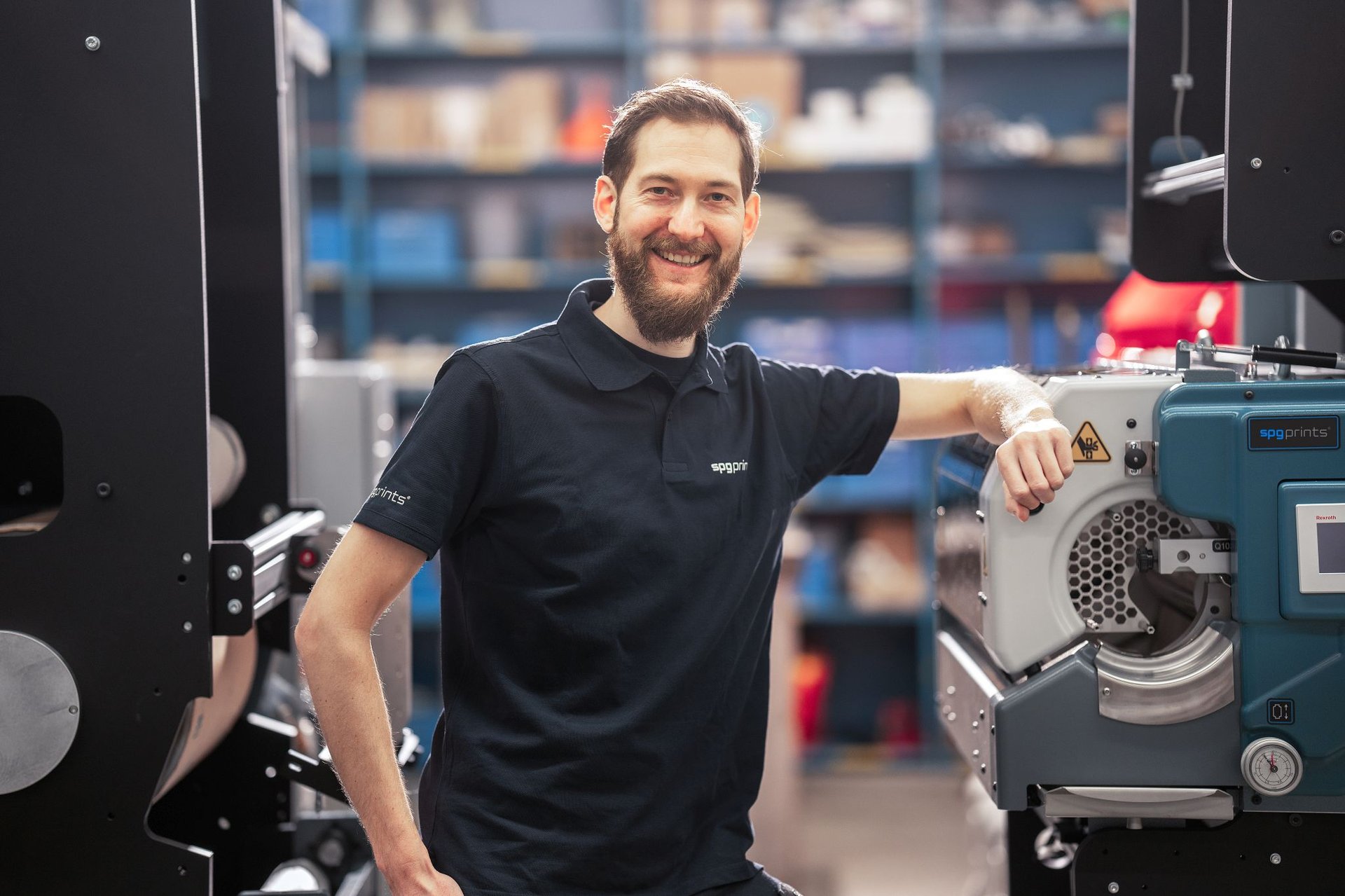 Innovative benefits of rotary screen printing. Let's boost your printing production with your current or new rotary screen units, so your customers are satisfied with high quality products.
Our products
Screens for Security Printing
SecuPlate® and SecuScreen®, Screen Print solutions for bank note printing. With high inks deposits > 5-20 μm and big particles, 20-200 μm you can add new possibilities / features for security applications. Our Security Printing screens have an extremely long life time per screen, low down time and high ink efficiency, thereby maintaining image quality.
The impact of sustainable rotary printing integration
Successful printing projects from start to finish
Proud to have more than 75 years of experience in integration rotary screen units. Discover how we can help you with your printing challenges with existing and new rotary screens integration units.
Easy integration on your press
SPGPrints has close partnerships with almost all of the world's leading press makers, enabling you to adopt our RSI (Rotary Screen Integration) technology in a way that suits your needs, in terms of application, level of usage and budget. Whether you decide to integrate our technology when you invest in a new press or retrofit it onto an existing machine, you can be assured of SPGPrints' support at every stage, throughout its working life.
We can support you with training, start-up support, application advice – and a responsive, reliable supply of premium-quality consumables for every stage in the workflow, including screens and squeegees.
Insights on Industrial/Label Printing
Discover everything about our Industrial and Label Printing solutions.
Explore all our insights